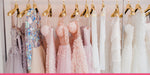 Insider Tips on 
How to Navigate a Trunk Show
Maybe, it's been a while since you've been to a trunk show or maybe this is your first time. If you are curious or feeling a little overwhelmed, don't fret! We are here to help you prepare for this exciting experience. These unique shopping engagements are one of the most personalized ways to shop from a designer's collection. Not only do you get an opportunity to meet one-on-one with the creator, you can get a piece that's perfect for you - in terms of style, size and color. And, it's an all around fun time to hang out and try some fabulous pieces! 
The 101: What is a Trunk Show?
A typical trunk show is when the fashion designer or vendor brings their line to a boutique for a special in-shop showing for customers. Designers used to literally bring their collection in trunks, which is how it got its name.  
Generally, designers bring samples, take orders and ship the items later (usually within 4-8 weeks). Occasionally, vendors have extra inventory from the season and will send stock pieces that you can buy right then and there.
Depending on the boutique and the designer, these shows can last anywhere from 1-3 days to a week. 
Not to be confused with sample sales, which offer discounted pieces from past seasons, a trunk show is a preview of one designer's new collection. Before you attend, check out their previous collections through their websites or social media pages. That way, you know what you're getting into.   
Benefits of Shopping a Trunk Show
We love hosting trunk shows and giving you and designers an opportunity to connect. It's a huge benefit to our clients for many reasons, including: 
Gives you a chance to meet directly with the designer or a brand representative
Ability to purchase new items that are not yet on the market
Potential to score a special, one-time-only price depending on the designer and their collection
Finally, it creates an opportunity to voice your likes and dislikes. For example, if you want to add sleeves or a sash, just ask, says Meredith, owner of Sophia Lustig. Some designers will make special accommodations at a trunk show.  
"They'll let you know what's possible, and they may offer to make the changes at no cost."
Our Process
To help you prepare for our upcoming trunk shows here at Sophia Lustig, we've put together an overview of our process so you know exactly what to expect. 
Typically, we schedule a date with our designer or vendor during the current season. Sometimes we'll book the show a season ahead if their pieces are made-to-order.  
We'll always keep you informed of new events through our newsletter and
social media
pages. So make sure
you're signed
up and follow us to keep in the loop. 
How it Works on the Day of the Event
The vendor or designer sends their entire season's line in the form of samples
We'll have the line available to browse in the shop
Come and enjoy the collection while sipping on special drinks or treats
You can try on styles and special order from the line, really giving you the chance to become your own buyer
You'll order your size and color and make a deposit on the purchase
Depending on the collection, the special order is delivered 2-8 weeks after the show
Once your items arrive in the shop, we'll personally call you to let you know that it's ready for pick up. Then, you can come into the shop, try it on and pay the balance. Our stylists will make suggestions on how to wear your new item(s) to maximize your purchase and make sure that the garment fits to perfection.  If not, our seamstress, Sarah, is on hand to make any adjustments necessary. Then, take it home and enjoy, of course! 
We love trunk shows because it's a wonderful opportunity to see the breath of the collection from the designers we love, not just what we carry in our shop. Join us for our upcoming shows and experience it all for yourself!