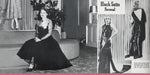 Today marks the start of Women's History Month and while we adore and celebrate women year round... It is important to 
dedicate a
 time 
to reflect
 back, feel gratitude and perhaps gain some inspiration from those women who came before us.
Sophia F. Lustig, who was involved in several civic ventures and the arts in Toledo, opened her namesake shop in 1936. At this time, a gallon of gas cost just 10 cents. The effects of the Great Depression were still lingering in the United States and Franklin D. Roosevelt had just won reelection for his second term.
As women entered into the workplace for the first time, daywear had to be functional, but it never lost its touch of elegance or femininity, as the dresses would still naturally highlight the female or womanly shape: with cinched waistlines, skirts fitted to the hip and fullness added to the hem with flared gores or pleats. Short hair was in and fitted long gloves were an essential accessory. Even though daywear dresses were soon influenced by the war, evening dresses remained glamorous.
For the first time, fashion was seeing a profound influence from films, especially Hollywood. Women's styles were based on designer created fashions seen on screen with stars like Ginger Rogers, Carole Lombard and Joan Crawford. Movie-goers idolized these celebrities and wanted to look like them. Timing was prime for Ms. Sophia Lustig to open up her first boutique in Downtown Toledo.
In those days, private appointments, models, and dedicated personal stylists were the expectation, not the exception. The Sophia Lustig shop was exquisite, filled with gorgeous hand picked clothing and accessories from all of the top designers of the day. Women scheduled appointments for every season change and special event, spending the day at the shop sipping champagne and selecting extraordinary pieces for every occasion.
Today, 87 years later, the shop continues to be woman owned and successfully operated by Meredith Moore. Meredith's commitment to strong personal relationships, fashion of the highest-quality and meticulous attention to detail carries on Sophia Lustig's legacy. Shopping at Sophia Lustig transports you back in time to build a wardrobe for your modern life. We will be here to help you look and feel your best at work or play for many more decades to come.
Reflective of the past, influenced by the present and inspired by the future