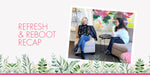 With our third successful installation of Reboot & Refresh in the books, we wanted to give a big warm thank you to everyone who has attended in the early stages of this fun event. We are grateful for our special guests who have blessed us with their time and wealth of experience. If you are reading this and have not joined us, we would love to invite you to join the conversation, have a drink, make a friend, learn something new and get energized with a small community of women that offer a safe place to just BE.
Next meetup: April 12th 5:30pm  (2nd Wednesday of every month)

Here's what one of our lovely guest, Louann Cummings had to say about this past Wednesday:
"What better way to celebrate International Women's Day than surrounded by kind, intelligent, accomplished, and beautiful women whilst communing about 'real life' balance, a contemplative mindset, and style! The March 8th Reboot & Refresh offering provided the opportunity to indulge in Certified Life Coach Amy Hall's wisdom and wit on topics such as meditation, taking risks, and carving out time each day for you! And Meredith challenged the participants to reflect on their personal style—what it 'says' about us…and what it means as we all face cleaning out our closets post-pandemic.
This lovely event, held at Perrysburgs' own and exquisite Sophia Lustig, was superbly hosted by Meredith Moore and her most talented team. It did not disappoint! Huge kudos to Ms. Moore for having the gumption and energy to not only envision, but also deliver on a springtime series of conversations focusing on collaboration between and among women. If you missed the March 8th presentation, never fear! More experiences are in the making.

Don't miss these opportunities to be a part of the dynamism at our small-town treasure, Sophia Lustig. Be there or be square!"