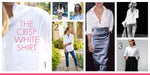 The Crisp White Shirt:
     The crisp white button up shirt is a closet staple every woman should own as it can be styled in so many ways. It's incredibly easy to dress up or dress down and with the right inspiration could very well become the hardest working piece in your closet. We've seen the crisp white shirt at the red carpet, on the streets worn over distressed jeans, at work tucked into a pencil skirt and even at the beach worn over a swimsuit as a coverup. It really is an incredibly versatile piece and worth the investment.
If you don't have a go-to white shirt in your closet yet or yours isn't as "crisp" as it used to be, do not despair. At Sophia Lustig, we have got you covered. Hinson Wu and Frank & Eileen are always carried in-house as part of our regular 'Wardrobe Essentials.' Our stylist can help you shop for the perfect crisp white shirt and send you home with some ideas on how to pair your white shirt with pieces you probably already own. You will be asking yourself why you didn't try these classic styles sooner. Come into our shop to explore the full collection!
Frank & Eileen Joedy Boyfriend Button-Up Shirt
Frank & Eileen shirts are a little more relaxed and easy on the silhouette, but feel like a million bucks. The Joedy is intentionally oversized with a little extra coverage in the back making this the perfect top to layer over leggings or jeans. For a more polished look, pair with a close-fitting black pant and a statement heel or flat. Pop the collar to give your neck a feminine elongated look.
Frank & Eileen Relaxed Button-Up Shirt
Eileen's relaxed fit flatters every figure and exudes a casual effortlessness. Tuck, tie or toss over anything (a tank, a tee, even a swimsuit!) The Eileen Relaxed Button-up Shirt is one of the easiest-to-pull-off shirts and looks incredible dressed up or dressed down. Pack this in your suitcase when you travel! This is a style to live in and love forever. Sizing tip: Stick to your true size for a looser look.
Need one more reason? Frank & Eileen is a certified woman-owned, woman-led business that has been creating high quality shirts ethically and sustainably before it was trending. Every fabric used can be traced down to the field of its origin. The belief in women is so important to the owner and leadership team that they have pledged $10 million over the next 10 years to nurture the female leaders of tomorrow through education. We can definitely get behind this. Feel good inside and out in a Frank & Eileen white crisp shirt.
Hinson Wu Reese Cotton Shirt
The Hinson Wu Reese cotton shirt is a classically tailored shirt, made of Luxe cotton. You can machine wash and dry. This is a huge bonus for those of you who have a hard time getting clothes to the dry cleaners. (I'm raising my hand right now)  If you machine dry this shirt, no iron is necessary. The Reese has an overall more "tailored" appearance. Pair with jeans, loafers and a belt or trousers under a suit for a classic and sophisticated look.
Care:
Rather than sending to the dry cleaner, you can wash on your own, and press yourself. Use a light starch on the collar and cuffs. Here is a tip that will add longevity to your beautiful white shirts, when there is a poly blended with the cotton, the dry cleaning process tends to yellow the fabric over time. You could also wash on your own and just send your shirts away to be pressed if you are allergic to ironing or maybe lack confidence in your ironing skills. There are many ways to go about caring for your shirts, but have peace of mind in that the essentials we've covered here are meant to be lived in and can handle quite a bit.
Fit Basics:
While there are dozens of ways to style and accessorize with a crisp white shirt, here are the two very general looks:
Start with an oversized, loose-fitting white shirt, roll up the sleeves or tie a knot in the front for an easy breezy look. Wear over leggings, slip or midi dress, pants or skirt.
Fitted at the shoulders and throughout the body (like The Reese)
, potentially worn under a blazer with a pop at the collar for a sophisticated look.
VIDEO: More from Meredith